Wishlist Wednesday is a book blog hop where we will post about one book per week that has been on our wishlist for some time, or just added (it's entirely up to you), that we can't wait to get off the wishlist and onto our wonderful shelves. It is hosted by Dani of Pen to Paper.
I wish.. I wish… I wish to have…
If I Stay by Gayle Forman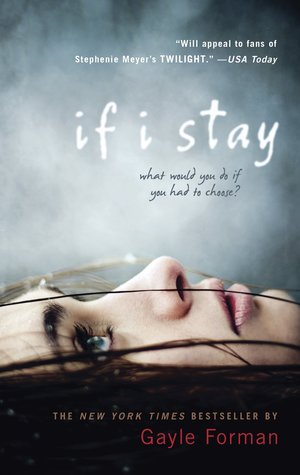 Goodreads Synopsis:
On a day that started like any other,
Mia had everything: a loving family, a gorgeous, admiring boyfriend, and a bright future full of music and full of choices. In an instant, almost all of that is taken from her. Caught between life and death, between a happy past and an unknowable future, Mia spends one critical day contemplating the only decision she has left. It is the most important decision she'll ever make.
Simultaneously tragic and hopeful, this is a romantic, riveting, and ultimately uplifting story about memory, music, living, dying, loving.
+++
One of the biggest regret I've been mulling over this year was that I didn't get to buy this book when I met Gayle Forman. It still bugged me but c'est la vie. The reason I didn't picked it up was that the plot sounds really sad (a la TFiOS) but since I saw the movie trailer (yeah, yeah I know) I suddenly want to read it. Sigh… Oh well… 
If you guys have read this book feel free to comment your thoughts about it but please I beg you, NO SPOILERS!
What are you wishing for this Wednesday?
Happy Reading,