Wishlist Wednesday is a book blog hop where we will post about one book per week that has been on our wishlist for some time, or just added (it's entirely up to you), that we can't wait to get off the wishlist and onto our wonderful shelves. It is hosted by Dani of Pen to Paper.
I wish… I wish… I wish to have…

Mr. Penumbra's 24-Hour Bookstore by Robin Sloan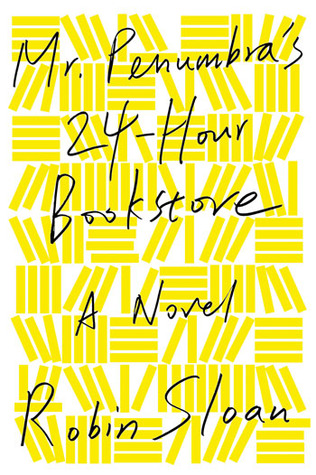 Goodreads Synopsis:
The Great Recession has shuffled Clay Jannon away from life as a San Francisco web-design drone and into the aisles of Mr. Penumbra's 24-Hour Bookstore. But after a few days on the job, Clay discovers that the store is more curious than either its name or its gnomic owner might suggest. The customers are few, and they never seem to buy anything—instead, they "check out" large, obscure volumes from strange corners of the store. Suspicious, Clay engineers an analysis of the clientele's behavior, seeking help from his variously talented friends. But when they bring their findings to Mr. Penumbra, they discover the bookstore's secrets extend far beyond its walls. Rendered with irresistible brio and dazzling intelligence, Robin Sloan's Mr. Penumbra's 24-Hour Bookstore is exactly what it sounds like: an establishment you have to enter and will never want to leave.
+++
This like a Booktube essential because almost everyone I subscribe to have read or own a copy of this book. When I read the synopsis though, I suddenly understand what the hype is all about. The mystery of the store sounds compelling and I want to read it right now. 
On a totally superficial note: I am torn between buying the Hardback or the Mass Market Paperback of this book because the Hardback looks gorgeous in the shelf, but the MMP has the novella Ajax Penumbra 1969. 
If you guys have read any of these books feel free to comment your thoughts about it, but please I beg you NO SPOILERS!
What are you wishing for this Wednesday?
Happy Reading,