Hello internet (lame intro… but it is accurate because I am saying hi to you people of the internet)!
Anyway I haven't done a
Top Ten Tuesday
blog post in like forever. Seriously, the last
Top Ten Tuesday
I wrote was in
July 22, 2014
(HOLY CRAP that was a long time ago. Yikes!). Anyway, I just wanted to get back in the blogging groove and just do a weekly thing. So here I am participating in this awesome meme!
The topic for this week is the Top Ten Books On My TBR for Summer 2015. As you may or may not know, the Philippines only has two seasons: the dry-and-sunny season and the wet-and-rainy season. We also consider March, April, and May as the peak of the dry-and-sunny season which is why we dubbed it as the summer months (whoa I just went all Professor Climate on you, I am such a snore). For the sake of the tag, here are the ten books I want to finish/start this June, July and August:
1) The Beginning of Everything by Robyn Schneider
2) Maybe One Day by Melissa Kantor
Basically I only have one reason why I wanna read these books and that is because of the book signing National Bookstore is hosting for Katie Cotugno, Melissa Kantor and Robyn Schneider. The details are down below: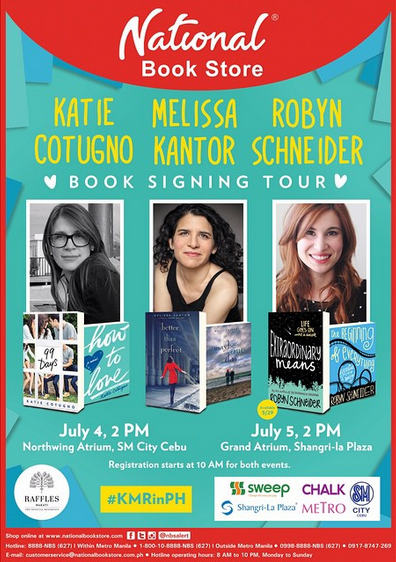 Photo Credit: National Bookstore
I am currently reading 99 Days by Katie Cotugno which is why it is not on this list. The premise of these books sound interesting enough and I do hope (and pray) that I'll enjoy all of them. I am just so stoked to meet these three authors in person.
3) All The Bright Place by Jennifer Niven
Earlier this year, a lot of the book bloggers I have been following were totally going bananas over this book. The hype was so overwhelming that I was compelled to pick it up as soon as I saw a copy of it on the stands! The book itself is pure eye candy, however, the plot does seem to juxtapose with the cover design (it deals with teens who are somewhat suicidal? I haven't read the excerpts and synopsis and I am going to keep it that way).
4) Aristotle and Dante Discover the Secrets of the Universe by Benjamin Alire-Saenz
I have heard nothing but awesome things regarding this novel and, truthfully, I have no clue what it is really about aside from it being a contemporary novel with a poignant message.
5) Slammed by Colleen Hoover
Colleen Hoover is coming to Manila in September (there are no official posters and details yet)! I wanna get into some of her books before I meet her and I think it is best to start off with her first book first.  
6) The Disreputable History of Frankie Landau-Banks
So I met
E. Lockhart last March
and I still haven't read this since then. It is supposed to be funny and I want some funny in my life right about now. 
7) Illusions of Fate by Kiersten White
I have tried reading this a couple of times, and even though I enjoyed the parts I read, I always had to push this aside for other priority books which is sad. I just NEED to read this! 
This is a book that I have been wanting to read way before I had a blog and a
Booktube channel
. Now I finally have it in my book collection and I just HAVE to read it. 
9) Afterworlds by Scott Westerfeld

I am starting to edit my own novel (the one I finished in the April session of Camp Nanowrimo) and Afterworlds deals with a girl who gets her book published! That is just inspiring right there!
10) Ready Player One by Ernest Cline

Like Illusions of Fate, I tried reading it before (in January to be exact) and I stopped because I wasn't in the right mood for it. Now I think I am so ready for this! 
Those are some of the books that I really wanna tick off my TBR pile, but I have loads more I wanna unload off that pile, which I might be feature in a vlog/blog post soon! 
How about you guys, what are the books are you itching to get rid off of your TBR pile? Share your Top Ten Tuesday post down below or just voice out your opinions.